Michigan Department of Corrections Struggles With Budget Challenges
by
Scott Grabel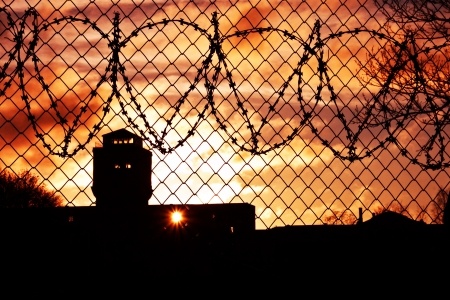 With a state budget deficit estimated at $1.8 billion looming next year, Michigan lawmakers are looking for ways to lower spending. One proposal being discussed is a repeal of the Truth In Sentencing laws, enabling the state to accelerate the pace of inmates being released from state prisons.
Since 1998, Michigan's Truth in Sentencing law has required offenders to serve their entire minimum sentence in prison before they could be considered for parole. A repeal of this law would allow the Department of Corrections to again release prisoners before completing the minimum of their sentences.
John Cordell, spokesperson for the Michigan Department of Corrections, told the Saginaw News that if the legislation passes, 7,550 inmates could be released this year before their minimum sentences are served. Those releases would save the system $42 million this year and even more next year.
He said most inmates would likely serve 85 percent of their minimum sentences before being released if their behavior behind bars was acceptable.
Prosecutors and law enforcement officials have issued public statements of opposition and dismay over the prospect of early inmate releases, while the Department of Corrections, some legislators and the American Civil Liberties Union have been supportive.
One issue getting little attention in the debate is the concern that the Department of Corrections would have increased power over the length of time an individual serves in prison, rather than the judge hearing the evidence in court at trial.
With Michigan poised to reexamine its penal system, this examination should also include a debate over restoring our judges' discretionary powers. At present, judges are often restricted when determining sentences for people convicted of crimes, as many crimes are subject to harsh mandatory minimum penalties.
Removing mandatory minimum sentences and giving judges greater freedom in sentencing would allow judges to use their legal knowledge and judicial experience combined with the evidence presented at trial to weigh mitigating factors when handing down sentences. These mitigating factors could include a defendant's childhood abuse, background, diminished capacity, intent and other circumstances.
With mandatory sentences and Truth In Sentencing, judges often have too little input on appropriate punishment after guilt has been determined. If we're going to again release inmates early, wouldn't our communities be better served by judges having more input than prison employees and harried parole board officials?
While many advocates of fairness in criminal justice applaud the state's willingness to reconsider Truth In Sentencing, we would all be well served to include this critical aspect of justice in the debate.
Regardless of what may happen in the legislature though, Governor Jennifer Granholm is already showing some movement on this issue. The Michigan Constitution gives the governor the power to commute, or reduce, any prison sentence.
According to the Lansing State Journal, Granholm commuted the sentences of 100 prisoners in 2008 and 2009. This marks a drastic increase over any other two-year period in the past 40 years and a drastic increase over Granholm's personal record. During her first five years as governor, she approved only 18 commutations. State officials assert that budgetary concerns are one of the driving forces behind this increase.
Ultimately, balancing the Michigan budget is going to take more than commuting a few dozen sentences annually or even considering thousands of people earlier for parole. Michigan spends approximately $2 billion each year on its prison system, and these actions will make only a slight indentation. However, these budgetary challenges may force elected officials to reconsider the values of incarceration and limit prison sentences to those situations where there is a legitimate reason for imprisonment.