A Guide to America's Attorney Generals
by
Scott Grabel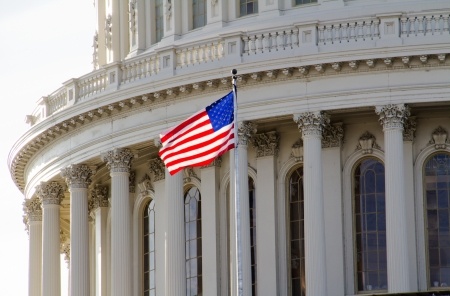 The top law enforcement officer of the nation is an individual who serves as the U.S. government's top legal adviser and the head of the Department of Justice. He or she is called the United States Attorney General and must be nominated by the President and confirmed by the Senate. The Judiciary Act of 1789, which was passed by Congress, established the Office of the Attorney General. In the order of creation, the position of attorney general was the fourth cabinet level position created by Congress, according to the U.S. Department of Justice. Attorneys general may be impeached and removed from office by Congress. As of 2013 the office of U.S. Attorney General has been held by eighty two people.
Jan. 20, 1969 – Feb. 15, 1972: John N. Mitchell was the 67th attorney general of the United States. Mitchell, a Republican, was appointed by President Richard Nixon for whom he was a key adviser and a close friend. He became the director for the Committee to Re-elect the President in 1972 following his resignation as attorney general. Due to his part in the Watergate Scandal, Mitchell was found guilty of perjury, obstruction of justice, and conspiracy. He was sentenced to nineteen months in prison for his involvement.
Feb. 15, 1972 – May 25, 1973: Republican Richard Kleindienst served as the 68th U.S. attorney general. During World War II, Kleindienst was active duty military and served in the United States Army Air Corps. He was also a Harvard Law School graduate. Kleindienst served as Attorney General John N. Mitchell's successor during the Nixon administration. He resigned during the investigation of the Watergate scandal, although he was found innocent of any involvement. After his time at the White House he returned to practicing law. In 2000 he died of complications from lung cancer.
May 25, 1973 – Oct. 20, 1973: For nearly five months, republican Elliot Richardson served as the 69th U.S. attorney general. He was a graduate of Harvard who served in the Army during the Second World War. In 1947, he received an LL.B from Harvard Law School. He became the attorney general for Massachusetts in 1959, and in 1964 he was elected lieutenant governor of Massachusetts. In 1969 President Nixon swore Richardson in as the Under Secretary of State and a year later he became Secretary for the Department of Health, Education and Welfare. In January 1973, he was appointed Secretary of Defense only to be appointed attorney general four months later. His time as attorney general was short-lived, however, as he resigned following orders from the President to fire the lead attorney who was investigating the Watergate scandal. Following his time as attorney general, Richards became the U.S. Ambassador to the U.K. from 1975 to 76, and Secretary of Commerce from 1976 to 77. He died of a cerebral hemorrhage in 1999.
Jan. 4, 1974 – Jan. 14, 1975: Under the administration of President Gerald Ford, Republican William B. Saxbe served as the seventieth attorney general for the United States of America. For the two years following his time as the attorney general, he became ambassador extraordinary and plenipotentiary to India. He was active duty military during World War II and the Korean conflict. Between the two military actions, he managed to graduate from Ohio State University's law school in 1948. He served as Ohio's attorney general and as chairman of the Ohio Crime Commission.
Jan. 14, 1975 – Jan. 20, 1977: Republican Edward H. Levi served two years as the U.S. attorney general during the Gerald Ford administration. A graduate of the University of Chicago, Levi became an assistant professor of law before going to Washington where he worked for the Justice Department in 1940. In 1950, upon leaving Washington, Levi became the dean of the University of Chicago law school. In 1968 he became the president at the University of Chicago until he was appointed U.S. attorney general by Gerald Ford. He served as attorney general during a very difficult time following Watergate. As attorney general, he issued the first of the Attorney General Investigative Guidelines on domestic security investigations, known as the Levi Guidelines. These limited the FBI's ability to use techniques such as wiretaps without specific evidence. Following his time as attorney general he returned to teaching. He died at the age of 88 in 2000.
Jan. 26, 1977 – August 16, 1979: Griffin Bell was a Democrat appointed by Jimmy Carter to serve as the attorney general. He was a World War II veteran, and a lawyer, and had been appointed a federal appeals court judge by President Kennedy in 1961. Upon leaving his position as attorney general, Bell returned to his law firm in Atlanta where he continued to practice law. In 2009, Griffin Bell died of kidney failure.
August 16, 1979 – Jan. 19, 1981: Benjamin Civiletti, a Democrat, served as U.S. attorney general in the Carter administration. Civiletti attended Johns Hopkins University and the University of Maryland School of Law. As deputy attorney general, he was appointed attorney general when Griffin Bell resigned. During his time as attorney general he argued on the behalf of Americans who were being held hostage during the Iran hostage crisis, and argued for the right of the governments to denaturalize Nazi war criminals. Partial government shut-downs can be traced to opinions stated by Mr. Civiletti whose interpretation of the Constitution state that unless there is a spending bill agreement, Congress cannot operate.
Jan. 23, 1981 – Feb. 25, 1985: Republican William French Smith of California was 74th U.S. attorney general during the Ronald Reagan administration. He was considered a friend and a confidant of the president. He graduated from the University of California at Los Angeles, and Harvard Law School. He spent four years serving in the U.S. Navy before specializing in labor law as an attorney in Los Angeles. He served as Reagan's adviser and personal attorney in his years as governor of California. Once appointed attorney general by President Reagan, Smith played a key in role in the appointment of the first female Supreme Court Justice Sandra Day O'Connor. In addition, Smith aided the fight against illegal drugs by increasing the necessary resources available to law enforcement. He died in 1990.
Feb. 25, 1985 – August 12, 1988: Edwin Meese, a Republican from California, was appointed U.S. attorney general by President Ronald Reagan. He was a graduate of Yale University and the University of California Berkeley where he obtained his law degree. Before becoming the 75th attorney general, Meese had previously worked for Reagan during his time as governor of California. Prior to his appointment, Meese served as chief policy adviser to the President. As attorney general he fought against organized crime, terrorism, and drugs.
August 12, 1988 – August 15, 1991: Richard L. Thornburgh, a Republican, served as the 76th U.S. attorney general, appointed by Ronald Reagan, and served in both the Reagan and the George H.W. Bush administration. Prior to his time as attorney general, he had been appointed U.S. attorney for the Western District of Pennsylvania by President Nixon in 1969. For two terms he also served as governor of Pennsylvania, with his first election taking place in 1978 and his second in 1982. In terms of education, Thornburgh graduated from Yale University in 1954 with a B.S. in Engineering. Following that, He attended the University of Pittsburgh where he obtained an LL.B.
Nov. 26, 1991 – Jan. 20, 1993: Republican William P. Barr served as acting attorney general for three months before his nomination and eventual appointment to attorney general by President George H.W. Bush. He is the 77th attorney general. Years before his appointment, Barr had worked for the CIA.
March 12, 1993 – Jan. 20, 2001: Janet Reno was the 78th attorney general of the United States and the first woman in the nation's history to hold the position. Nominated by President Bill Clinton, Reno served the length of his presidency. This made her one of the longest-serving attorney generals in history. During this time, there were many notable events that took place including, but not limited to, the Waco Siege, the capture of the Unabomber Theodore Kaczynski, and the conviction of the two men responsible for the Oklahoma City bombing. Following her time as attorney general, she unsuccessfully ran for governor of Florida.
Feb.2, 2001 – Feb 3, 2005: John Ashcroft, a Republican, was nominated and appointed by George W. Bush to be the 79th attorney general. He is a graduate of Yale University and also the University of Chicago, the latter of which is where he earned his law degree. Prior to his appointment, he held numerous positions such as state auditor and state attorney general. As state attorney general, Ashcroft was elected twice, once in 1976 and again in 1980. He also served as president of the National Association of Attorney Generals and served on the U.S. Attorney General's Task Force on Family Violence. In 1984, he was elected the governor of Missouri, and in 1995 he won a seat on the U.S. Senate. During his time as attorney general he supported the USA Patriot Act and actions believed to increase the security of the nation. After his resignation as U.S. Attorney General, he began teaching at Regent University.
February 3, 2005 – September 17, 2007: Harvard Law School graduate Alberto Gonzales was the 80th Attorney general of the United States, serving under the administration of George W. Bush. He served in the United States Air Force from 1973 to 1975 and then went on to be appointed to the U.S. Air Force Academy where he studied for two years. He left and obtained a Bachelor of Arts in Political Science at Rice University in 1979, then received his law degree in 1982 from Harvard University. Attorney General Gonzales was known for his fights against Internet predators as well as terrorism. His support of controversial torture tactics, involvement in the NSA wiretapping scandal, and the firing of seven U.S. District Attorneys, led to calls for his resignation by both Democrats and Republicans. Amid this political pressure, Gonzales announced his resignation from his position on August 27th of 2007, to be effective as of September 17.
November 9, 2007 – January 20, 2009: Born in 1941, Republican Michael Mukasey served as the 81st attorney general while George W. Bush was in office, until President Barack H. Obama's inauguration. During the Reagan years, he was chosen to serve as a federal district judge, and held that position for 18 years. In November of 2007 he replaced Alberto Gonzales as the United States Attorney General. He received his law degree from Yale University in 1967 and was an attorney for 20 years. Four of those years he served as Assistant U.S. Attorney in New York. Mukasey is famous for a ruling involving convicted terrorist Jose Padilla, in which he decided that a United States citizen could be treated as an enemy combatant if they were accused of terrorism.
February 3, 2009: Eric H. Holder, Jr. is the current and 82nd United States Attorney General, serving under President Barack H. Obama. He is the first African-American United States Attorney General in history. He also served as deputy attorney general under Janet Reno in President Bill Clinton's administration, from 1997 to 2001. He received a Bachelor of Arts in History at Columbia University in 1973, and a Juris Doctor degree from Columbia Law School in 1976. Holder directed the Department of Justice to abstain from defending the Defense Of Marriage Act, effectively reducing the government's role in discriminating against gay marriage and homosexual rights. On November 2013, republicans in Congress introduced a resolution to impeach Attorney General Holder over his refusal to defend the Defense of Marriage act, the "Fast and Furious" scandal, and the alleged targeting of conservative groups by the IRS.