How to Say NO to Drugs!
by
Scott Grabel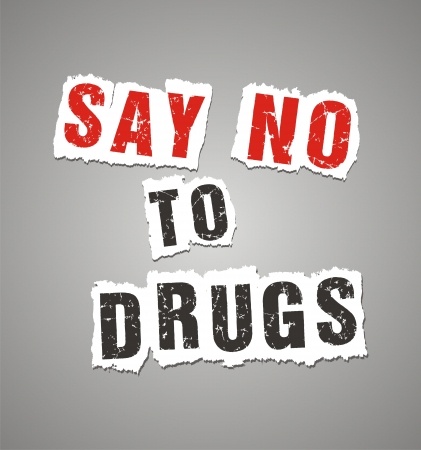 When a person uses any potentially dangerous and/or mood-altering substance in a frequent and often overindulgent pattern, it is called substance abuse. These substances include prescription and non-prescription drugs, alcohol, and tobacco. Teen substance abuse is an ongoing problem that can have long-term, negative effects on the present and future of the person using the drug, and on his or her family. At some point most teens will come into contact with drugs, alcohol, or both. While some may never try them, others may find themselves trying and eventually abusing drugs as a result of peer pressure, stress, or other reasons. When faced with the decision of using drugs or steering clear of them, knowing how to avoid the temptation and pressure to do so is key. This is easier said than done, however. The teen years are often difficult, even before drugs or alcohol enter the picture. Often this difficulty comes from one's peers as there is stress to behave a certain way, look a certain way and to fit in. Confidence and self-esteem will play a huge role in drug and alcohol prevention.
A number of factors influence one's decision to use drugs. One of the leading factors for people in their teen years is peer pressure. The influences of a person's friends, whether good or bad, often plays a large part in decisions that are made. In some instances, even the influence of people who are not friends will affect a teen's actions. For example, a teen may want to be a part of a popular group of students in school; however, the group has not accepted him or her as a friend. In efforts to fit in or be accepted, the student may do something that is wrong because the people in the popular group are doing it. Often that "something" involves taking drugs or drinking alcohol. Confidence, self-esteem and feelings of self-worth will go a long way toward helping a teen make the right decision and not just follow the crowd. When people are confident in themselves and in what they believe in, they are less likely to look toward outside sources to make them feel special. Teens should discover what things they enjoy, from music to clothing and recreational activities. These things can help them to express who they are. By exploring the things that make them feel good, they may no longer feel the need to "fit in" with people who drink, take drugs and behave in a way that invites trouble. Hanging out with friends who share the same beliefs and enjoy the same activities will also diminish the influence of peer pressure and the risk of doing things that are wrong and potentially harmful.
Saying "No" to peers can be difficult, especially if no one else does, or if the peers are friends. Knowing how to say no can help make it easier. In some cases, simply saying "No thanks," is enough. If dealing with a single person who is a friend, it may be helpful to say no in addition to offering an alternative activity, such as going to a mall, watching a movie, or playing video games. Depending on the situation, attaching humor to a refusal to take drugs may also make the situation less tense. In some instances it is best to simply avoid situations where peer pressure is likely to be applied. For example, if a party is being held and it is known in advance that there will be alcohol or drugs present, avoiding the party in favor of other activities will solve the issue of having to say "no" in the first place.
Teens who are on the fence on whether or not to take drugs or alcohol should consider the consequences of doing so. Substance abuse can negatively affect a person's relationship with their family and alienate friends. Drugs can cause grades to decline to the point that it affects one's ability to graduate and attend the college that they want. In some cases, drug abuse may even cause a person to drop out of school entirely, which threatens their future ability to get a job and earn a living. Alcohol and drug use and abuse increases the risk of suicide and the risk of injury or death due to accidents or car crashes. Substance abuse may even result in death due to drug related interactions. Minor and major illnesses and diseases may be contracted through dirty needles or from sexual contact while under the influence. Mental illness in the form of depression or withdrawal are also associated with substance abuse. Incarceration is yet another consequence of substance abuse. Not only is the act of taking drugs illegal, but teens may also become involved in gangs, commit robbery, resort to selling drugs, or assault others as a result of taking them. Juvenile offenders can by marked for life by an arrest and possibly tried as adults. For arrested teens, a criminal defense attorney is necessary to navigate the justice system.
For teens who are already taking drugs or drinking alcohol, it is never too late to get help. The first step is to get the necessary support by telling one's parents or family about their problems and desire to get help. The next step is to see a professional such as a doctor or depending on the extent of the problem, a treatment center may be necessary. For some people counseling and support groups are helpful and can help address the real reasons for the substance abuse.
Despite the hardships and adjustments that come with being a teen, it isn't necessary to turn to drugs. Although the desire to fit in can be a strong motivator, it is important to consider all of the negative consequences that are associated with drug use. To help avoid drugs, teens should discover the things that they enjoy and what makes them a unique individual. A strong sense of self-worth and confidence will go a long way in helping teens say no to drugs and alcohol.
For more information about teen substance abuse and how to say no, please read the following links.